THE ULTIMATE CREASE PROTECTOR KIT
Regular price
Sale price
$79.99 USD
Unit price
per
Sale
Sold out
SHIPS FROM OUR WAREHOUSE IN 5-7 BUSINESS DAYS
Share
View full details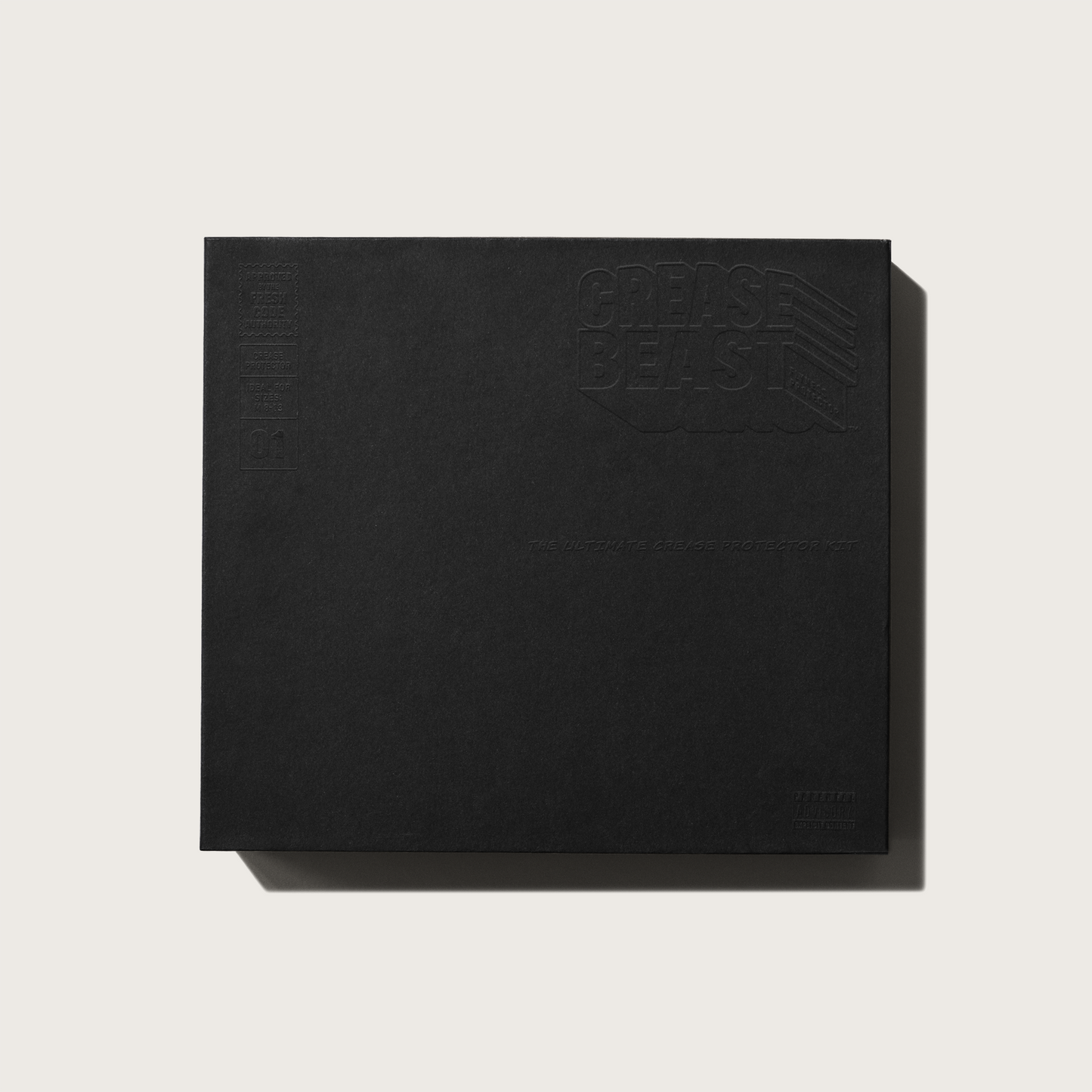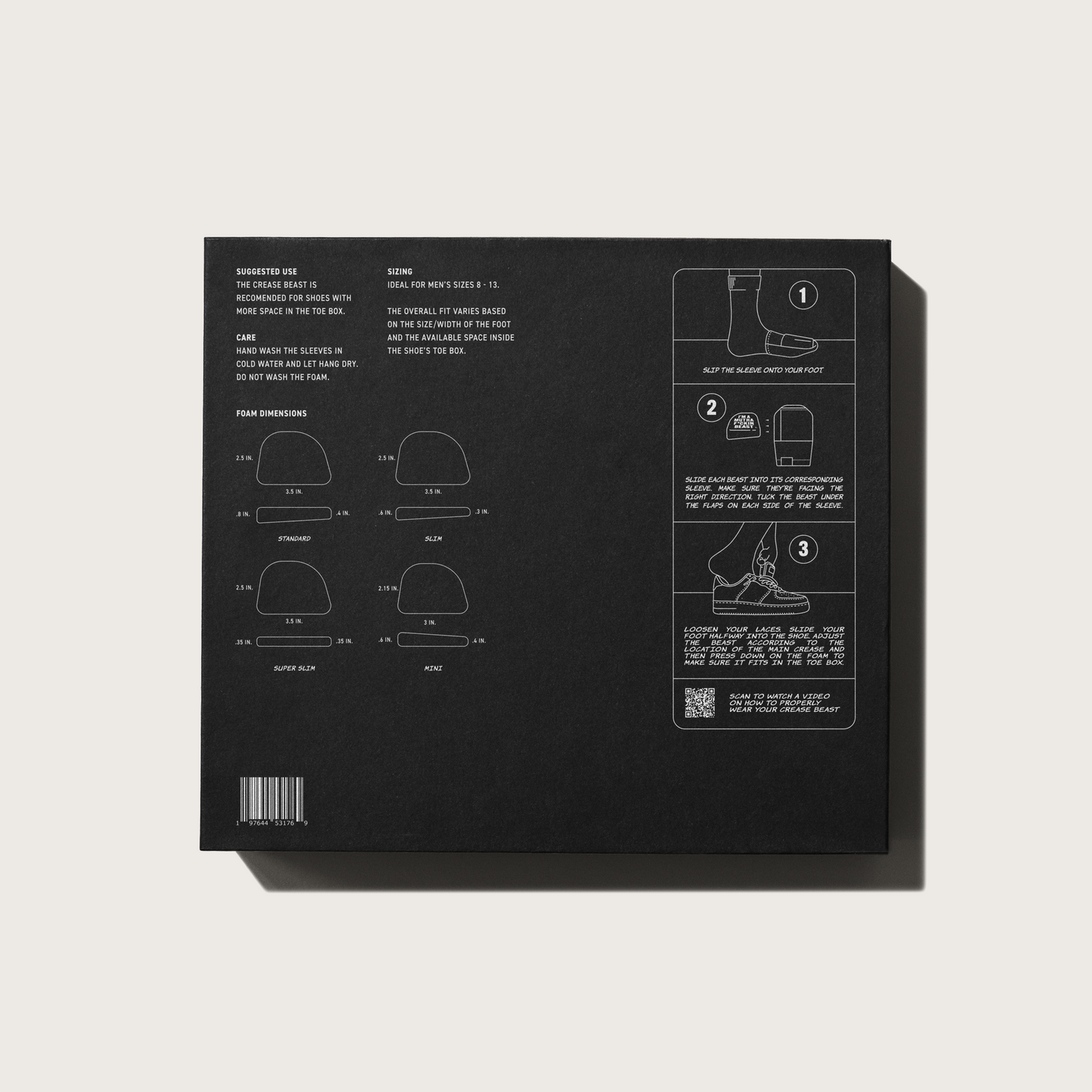 THE CREASE BEAST DUO
Regular price
Sale price
$54.99 USD
Unit price
per
Sale
Sold out
Share
View full details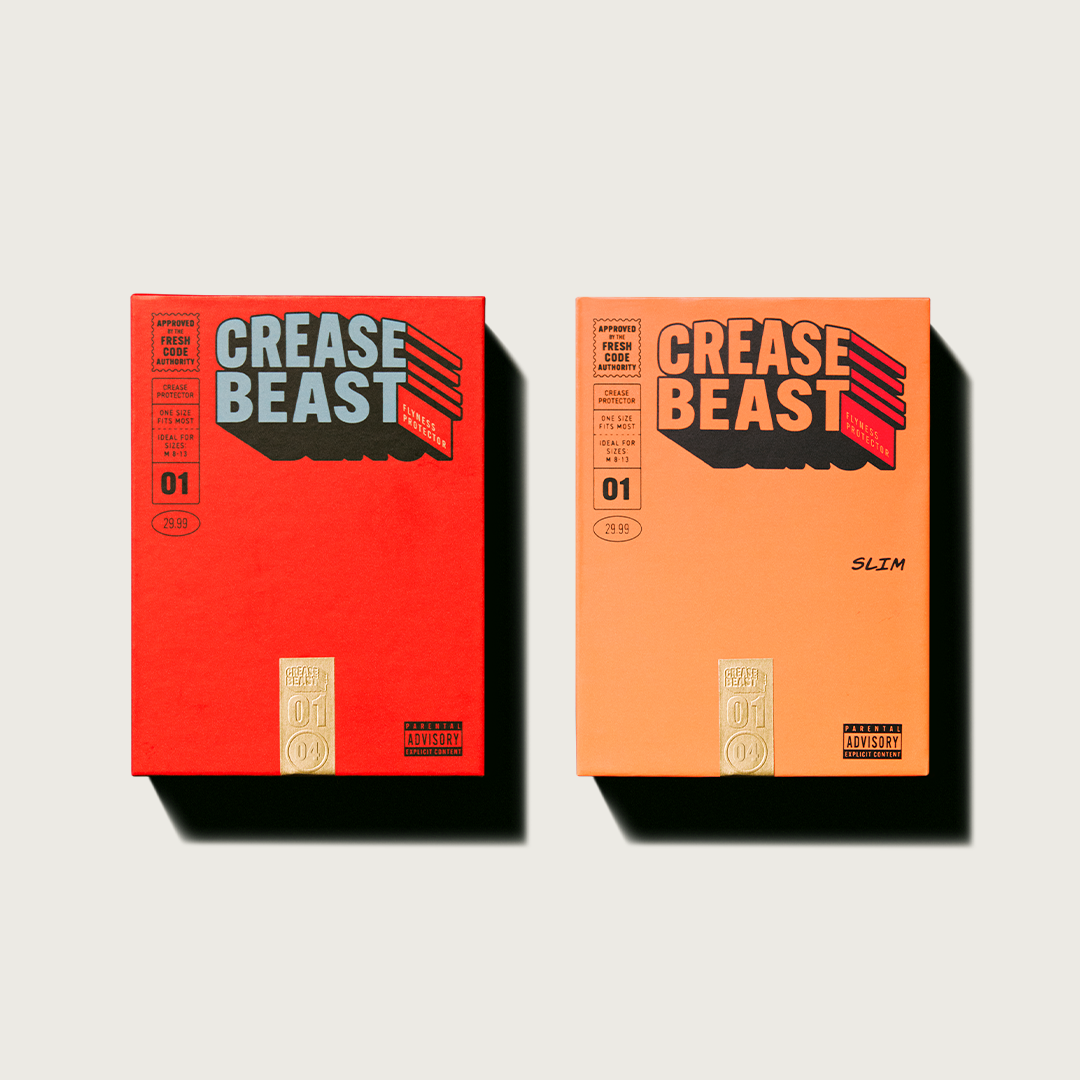 THE ONLY CREASE PROTECTOR THAT KNOCKS OUT OLD CREASES
AND ALSO PREVENTS CREASES IN NEW SHOES.
Let customers speak for us
FAQ'S
Does the Crease Beast come in pairs?

Yes, each Crease Beast includes a pair of foot sleeves and a pair of memory foam inserts. 
Do I have to buy my shoes in a bigger size?

We recommend wearing your true size but it can also be used for shoes that fit bigger. Our custom-shaped memory foam insert fills the negative space inside your shoe's toe box, so the overall fit varies depending on the size of the foot and the shape of the shoe being worn.
Are there different sizes of the Crease Beast available?

Yes, currently there are four variations of the Crease Beast available. Three for men's sizes (The Crease Beast, The Crease Beast Slim and the Super Slim (sold as foam pads without the foot sleeves) and one for women's and kid's, The Crease Beast Mini.
What's the difference between the standard size Crease Beast and the Crease Beast Slim?

The Crease Beast Slim is approximately 30% thinner than The Crease Beast. All other dimensions are exactly the same.

The Crease Beast is recommended for Men's sizes 8-13.

The Crease Beast Slim is recommended for Women's sizes 9-11 and Men's sizes 8-13.
Does the Crease Beast work on all shoes?

Yes! The Crease Beast is extremely versatile. It can be used to prevent creases on a wide variety of athletic shoes, boots, dress shoes, and lifestyle sneakers.
Does the Crease Beast work for sizes above Men's 13?

The Crease Beast fit largely depends on the amount of available space inside the shoe's toe box. Since all shoes and feet are different, the fit will vary. We are in the process of testing different size iterations of the Crease Beast to accommodate every possible size scenario in the future. 
Why is the Crease Beast more expensive than other crease protectors?

The Crease Beast is a premium quality, multi-usage crease protector. Its versatility allows the user to wear them in any shoe that they choose. They also don't need to be replaced as frequently which makes them the less expensive option over time in comparison to buying other crease protectors. 
Is the Crease Beast available at any retailers?

No. They are only available on our website and Amazon. All new releases and accessories are sold online exclusively at www.creasebeast.com
Does the Crease Beast ship worldwide?

Yes, the Crease Beast ships to all states domestically and every non-sanctioned country internationally. Shipping prices vary destination address. Cheaper shipping options for the UK and EU coming soon.
Do you accept returns or exchanges?

Yes, we accept returns within the first 30 days after your order is delivered. We do not offer exchanges. Refunds are electronically submitted to the original form of payment once the product has been returned to our fulfillment center and inspected. The shipping costs will be deducted from all returns because we pay the exact amount in shipping to generate each return label. International returns are NOT accepted. 
When will my order ship?

Orders are processed within 2-4 business days after purchase. A tracking number is automatically emailed to each customer after the chosen shipping service confirms reception. International shipping times may vary based on the region.
How long will it take to receive my refund?

Refunds typically take 2-5 business days to process after they have completed inspection at our fulfillment center. 
How long does DHL Parcel International Direct take to deliver?

This is the cheapest international shipping option. Delivery times vary by country, but it typically takes 8-14 business days to reach its destination. Please be advised that multiple postal couriers will handle the package prior to delivery. Tracking information is provided via email once the order is shipped. 
What if I did not receive my package? 

All orders are insured by the various shipping services that we offer. Once the claim process is completed, a refund will be submitted to the original form of payment. Replacement products will not be sent out during this process. 
The gold seal was broken when my package arrived, what should I do?

The gold seals on the boxes can be easily broken if mishandled during the shipment process. This does not indicate that your package was used or tampered with. All of our products are sold and shipped in new/unworn condition. If you are unhappy with the product that you received, please email us at support@creasebeast.com
I submitted the wrong shipping address when I placed my order, how can I change it?

Please email us at support@creasebeast.com with your correct shipping address as soon as possible. Orders that have already shipped cannot be changed. 
I signed up for the Crease Beast newsletter but did not receive my 10% off code. How do I get it?

Be sure to check your junk mail. If you subscribed and still did not receive the promotional email, please reach out to our customer service team at support@creasebeast.com 
Do you offer wholesale?

Yes, please email us at wholesale@creasebeast.com with the entirety of your request. Please include your location and store (if applicable) and a member of our logistics team will get back to you as soon as possible. 
What if I have a question that isn't frequently asked?

If you did not find the answer to your question, please email our Customer Support team and a representative will get back to you as soon as possible. support@creasebeast.com